Indonesia is known for its variety of exotic places that are rich in natural beauty under the sea, the beautiful mountains and tropical forests. The following list of beautiful places and natural destinations in Indonesia:
Quote:
Raja Ampat Islands
Raja Ampat Islands, a paradise for divers. Raja Ampat Islands is a series of four adjacent group of islands located in the western part of the Bird's Head (Vogelkoop) Papua Island. The islands are now a destination for divers who are interested in the beauty of the underwater scenery.
The four islands that belong to the four named after its largest island, which Waigeo Island, Misool Island, Salawati Island, and Island Batanta. The archipelago became very beautiful place for attractions, especially dive. Raja Ampat Islands waters to be one of the 10 best waters for diving sites around the world. Here, you can also find thousands of species of fish that is still awake.
Quote:
Bunaken National Park
One more place that knows the beauty of the underwater world of Bunaken, Manado, North Sulawesi. Bunaken marine park has a 20 point dive (dive spot) with varying depths up to 1344 meters. Of the 20 point dive, dive 12 points of which are located around Bunaken Island.
Twelve point dive is the most frequently visited by divers and lovers of the beauty of the underwater scenery. Bunaken National Park has a coastal and marine biodiversity is very high and there are three major ecosystems of tropical waters of Indonesia, the Coral Reef, Mangrove and Seagrass.
Quote:
Mount Rinjani National Park
Exoticism Mount Rinjani in Lombok Island, West Nusa Tenggara, is beyond doubt. Rinjani has panaroma is arguably the best among the mountains in Indonesia. The beauty of the scenery at the Rinjani an attraction for nature lovers both local and foreign tourists to climb. Temperatures average around 20 ° C 12 ° C. The lowest Strong winds are common at peak in August. In addition to the summit, a place frequented was Segara Anakan, a lake located at an altitude of 2,000 m above sea level.
Quote:
Derawan Islands
Exploring the natural exoticism Indonesia is endless. One of them, Derawan Islands in Berau, East Kalimantan. Derawan islands surrounded by beautiful islands that Maratua, Sangalaki, and Kakaban. Various natural charm with its underwater natural beauty of delight for anyone who witnessed it. Not surprisingly, many foreign and domestic tourists who come all the way to witness the beauty of tropical nature.
Quote:
Komodo Island
Komodo dii East Nusa Tenggara and West Nusa Tenggara could also become one of the destinations to spend Christmas and New Year holidays you. This national park consists of three large islands Komodo, Rinca, and Padar, and several smaller islands.
The main attraction of Komodo National Park which is the ancient reptile Komodo dragon (Varanus komodoensis), but the authenticity and uniqueness of nature, especially the panorama Panorama Savana and under the sea, is the main attraction of potential supporters. Such as marine tourism, fishing, snorkeling, diving, canoeing, boating. While on land, the potential of nature tourism that can be done is wildlife observation, hiking, and camping. Visiting the Komodo National Park and enjoy the scenery so captivating an experience that will never be forgotten.
Quote:
Kawah Ijen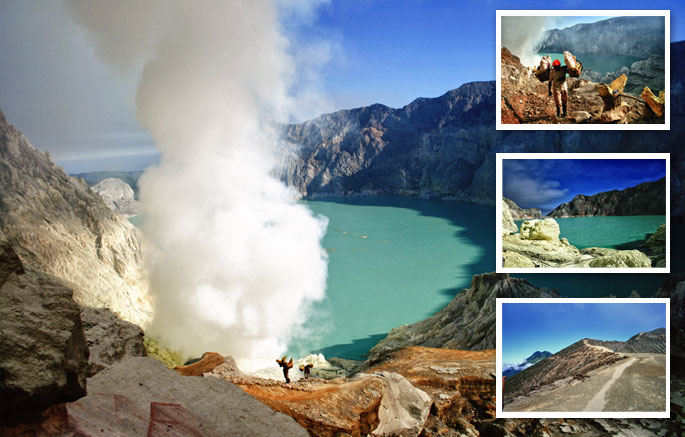 Mount Ijen is an active volcano located in Banyuwangi, East Java. Kawah Ijen became famous attraction, which has been recognized by domestic and foreign tourists for its natural beauty and charming.
Quote:
Canggu
Canggu is located in South Bali. Canggu be one of the perfect surfing destination. Many of the best surfers from around the world come to try the famous and challenging waves. In addition, you can also try horse riding exercise referral course with a professional guide along garus beach and rice fields. Feel well, beautiful view at sunset on the coast.
+photo by
abdina